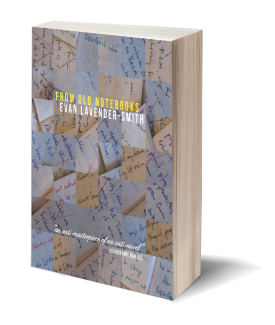 From Old Notebooks (Dzanc Books, 2013)
"More true to life in its set of preoccupations than many a 'realist' novel or plotted memoir can ever become. From Old Notebooks is a charm, a goad, an anti-masterpiece of an anti-novel — a work of art that's easy to enter, and hard to put down." (Stephanie Burt, Rain Taxi)
"Truly remarkable … This startling, insightful compendium reminds us what literature is in its endless, mutating forms." (TriQuarterly)
"A manic, hilarious, intense vision that makes it so singular it's almost its own genre." (Blake Butler, HTML Giant)
"Evan Lavender-Smith reveals what other writers, especially first-timers, try to hide. He makes us shudder and swoon." (The Rumpus)
"This work changes the art of the book and challenges what it means to write and read, to live and tell a story." (Prick of the Spindle)
"A genius enterprise." (The Southeast Review)
Online Reviews
Stephen Thomas at Black Warrior Review
Edwin Turner at Biblioklept
Barry Silesky at TriQuarterly
Jesus Angel Garcia at Electric Literature
Callista Buchen at Prick of the Spindle
Greg Gerke at Big Other
Kevin Evers at The Rumpus
Peter Tieryas Liu at HTML Giant
Christopher Higgs at HTML Giant
Blake Butler at HTML Giant
Angela Stubbs at The Nervous Breakdown
J.A. Tyler at The Southeast Review
Rachel Zucker at Flavorwire
Read an excerpt from From Old Notebooks. Purchase at Dzanc Books or Amazon.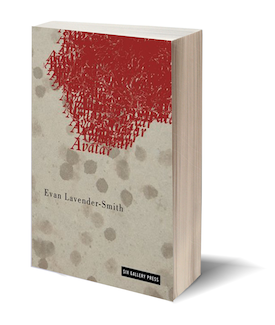 Avatar (Six Gallery Press, 2011)
"A marvel of a book … Avatar unleashes language from its normal place, makes it something wilder." (The Collagist)
"A short masterpiece … nothing less than captivating … It just might be the snapshot of eternity we've all been hoping would never surface." (Giancarlo DiTrapano, Vice)
"This narrative, like the light of the stars, travels as both particle and wave … It exists so that we might begin to understand what it means to be a single point of light, in danger of eclipse." (American Book Review)
"Brilliantly captures what it feels like to be utterly alone, isolated, set adrift, and the results are devastating." (Robert Lopez, Bookslut)
"Evan Lavender-Smith has established himself as one of America's leading literary artists: a writer whose work reconfigures the relations between fact and fiction, form and content, reading and writing." (David Winters, Gorse)
Online Reviews
Gabriel Blackwell at American Book Review
Joseph Scapellato at Little Grid
Giancarlo DiTrapano at Vice
J.A. Tyler at The Collagist
Robert Alan Wendeborn at Master of Fine Eats
Mike Meginnis at Uncanny Valley
Lily Hoang at HTML Giant
Read an excerpt from Avatar. Purchase at SPD or Amazon.